Juicy Baked Chicken Breast Recipes
Are you looking for baked chicken breast recipes?
Well look no longer! I have some delicious mouth-watering recipes ready and waiting for you.
Baked Chicken Breast Recipes are healthy and very easy to prepare. Plus it does not require all your time. All you have to do is season the chicken and put it in the oven and time it. Just like that!
You don't need to worry yourself over all those chores you have for the day. You can cook while washing and cleaning. Why? Because your oven will take care of the chicken for you!
So consider your oven your best friend it will cook for you while you wash. There's nothing more than a perfect helper. And guess what you don't have to pay that oven.
This is just perfect! I do it all the time and you should too. I promise you won't regret baking these chicken recipes.
Your oven will bake the chicken using its own chicken juices. Your chicken will not be dried but tender and moist to the bone just the way it should be!
Plus baking your chicken gives you the chance to take control of your weight, since this recipe requires less oil. So you can cut down your calories intake by simple baking your chicken.
You won't regret it because I haven't! I give fried chicken a break and eat bake chicken whenever I want to take off weight or fit into that beautiful swimwear.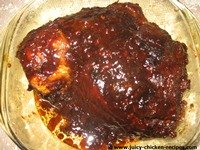 Just Enjoy!
How are Instructions to bake Classic Bake Chicken Breast Recipes
Ingredients for Classic Baked Chicken Breast Recipes
4 lb chicken, cut into 8 parts (preferably 2 breasts, 2 thighs, 2 legs, 2 wings) excluding the back
Olive oil or your desired cooking oil
Salt and freshly ground pepper
1/2 cup of chicken stock* or white wine for the gravy (optional)
2 teaspoons Worcestershire sauce
1 teaspoon garlic powder
1 teaspoon grounded ginger
2 tablespoons meat sauce
3 tablespoons tomato sauce
Preparation for Classic Baked Chicken Breast Recipes
1. Rinse chicken pieces in vinegar mixed with cold water to remove excess bacteria and pat dry with paper towels.
2. Coat the bottom of a roasting pan with olive oil. Sprinkle both sides of the chicken pieces with salt and freshly ground black pepper. Rub some olive oil and or pour a marinade over all of the chicken pieces in the roasting pan.
TIPS:The rubbing of oil over the chicken allows the seasoning to marinate faster into the chicken flesh.
3.Arrange the pieces skin-side up in the roasting pan so the largest pieces are in the center (the breasts) and there is little room between pieces so they aren't crowded in the pan. Give it 30 minutes to further marinate. Preheat oven to 400°F.
4.Cook for 30 minutes at 400°F. Then lower the heat to 350°F and cook for 45 minutes until juices run clear (not pink) when poked with a sharp knife. You could use an instant-read meat thermometer to check the chicken near the end of cooking to check for doneness. When the internal temperature reaches 170 degrees for breast meat, 180 for thighs (measured in the thickest part), the chicken is done.
5.Remove roasting pan from oven. Remove chicken from roasting pan to a serving plate.
6 To make gravy for the chicken, remove drippings from roast pan and place in a small saucepan and heat over medium flame on the stovetop. You can add meat sauce, Worcestershire sauce, tomato sauce, fresh ground pepper and salt to taste. Bring to a boil and add a two teaspoons flour paste to reduce to your desired thickness.
*While the chicken pieces are baking, if you bought a whole chicken that was then cut into pieces, you may use the back, the neck for making chicken stock. Chop the back and the neck into small pieces and place into a small saucepan, barely cover with water, bring to a simmer, cook while the chicken is cooking. When the chicken in the oven is done cooking, use the stock from simmering the extra pieces to make the gravy.
Serves 4. Serve with Mashed potatoes or Spanish rice and your desired vegetables.
See below for more Juicy Baked Chicken Breast Recipes.
Chicken Cordon Blue Recipe
Butter Chicken Recipes
Chicken Rice Casserole Recipe
Chicken Quesadilla Recipe
Baked Barbeque Chicken Recipes
Return from Baked Chicken Breast Recipes to Juicy Chicken Recipes
If you are not satisfied with this recipe, click the link below to a recommended recipe and thanks for visiting www.juicy-chicken-recipes.com.
Other baked chicken breast recipes at allrecipes.com