Luscious Chinese Chicken Recipes
Invite Chinese Chicken Recipes into your home today!
Ever wonder what makes Chinese cuisine so unique and exciting? It is special balance of ingredients, the beautiful and juicy contrast in colors and taste in its recipes. Over the years Chinese have developed countless ways to cook chicken. Methods vary from stir-fry, steaming to deep-frying, and they are still practiced today.
As the years go by, some of these authentic Chinese chicken recipes have become Americanized, that is the use of sweet sauces and a lot of grease. However, there are still a few of these recipes that are prepared in their traditional version such as the Cashew Chicken.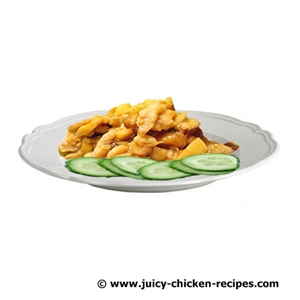 I love both the Traditional and the Americanized version of the Chinese cuisine, so below I have provided a list of some of our favorite Chinese Chicken Recipes ready for you to prepare.
And don't worry about the ingredients! You can pick them up in your local supermarkets.
Plus it is easy and more economical to prepare your own Chinese food, and to top it off you control what goes into your meals.
So are you ready to prepare some Chinese Chicken recipes? That's great! Here are some tempting Chinese Chicken Recipes, that I know you will find pleasure in preparing.
Szechuan Chicken Recipe

Orange Chicken Recipe
Also Want some Chinese cooking tips to help you whip up some delicious Chinese Chicken Recipes?
CHINESE COOKING TIPS
Tips for Stir Frying
1.Make sure you have all your ingredients prepared before you proceed to cook the meal: meat cut and marinated, sauces prepared, vegetables washed. Don't try to prepare or organize ingredients while cooking.
2.Ensure that ingredients are cut in small even pieces for finest cooking results and beautiful presentation.
3. Use enough oil when stir-frying. The best oil to use when stir-frying is canola oil or peanut oil. They give best results. Make sure oil is hot before adding your ingredients.
4.Before adding your main ingredients, season the oil with pieces of garlic and smashed ginger. If you want a peppery flavor but you don't want the hot taste of pepper in your meal add pieces of pepper to the oil. Let them saute on medium low heat for a minute before removing them. I seasoned the oil this way when I am also frying fish. These seasonings make it tender and juicy.
5.Always stir fry meat on high heat to keep the juices and flavor sealed in.
6.Always cook the meat first and then the vegetables, so that the flavor of the meat can be captured by the vegetables. This helps maintain an even and delicious balance when preparing Chinese Cuisine.
7.When cooking vegetables, put in the denser or thicker items first and cook them longer. Cook vegetables on medium heat.
8.Wash and prepare vegetables ahead of time before cooking so that they are not wet or too dry when cooking.
9.When applying sauce to the skillet form a well in the center by pushing the ingredients aside. Stir the sauce until it thickens before stirring the ingredients with the sauce.
10.You can use starch water or flour paste to thicken sauces.
Tips for Deep Frying
1.When deep frying, do not cook food at low temperature it will cause the food to absorb too much fat, thus becoming greasy.
2.Do not overcrowd the wok, this will lower the temperature causing the food to become greasy and can cause splattering.
3.Ensure that ingredients are dry to avoid splattering. If it is the case where ingredients are in a sauce, allow it to drain before adding to the wok or frying pan. If the ingredient requires a batter, ensure any excess batter is scraped off before adding it to the hot oil.
4.Some recipes require more oil than others. But the quantity of oil depends on the ingredient being deep fried, so ensure the item is completely submerged in the oil.
5.The temperature for deep frying depends on the recipe, so what I suggest is that you heat the oil to somewhere between 350 degrees and 375 degrees Fahrenheit.
Enjoy!
Return from Chinese Chicken Recipes to Juicy Chicken Recipes
If you are not satisfied with this recipe, click the link below for a recommended recipe and thanks for visiting www.juicy-chicken-recipes.com.
For more Chinese dishes visit tastes-ofchina.com