Best Grilled Chicken Recipes; How do
you like yours, Hot and Spicy?
I like mine Hot and Spicy!
The Best Grilled chicken recipes are made mostly with Caribbean seasonings. Grilled chicken has this sweet smoky aroma that reminds me of my Caribbean culture.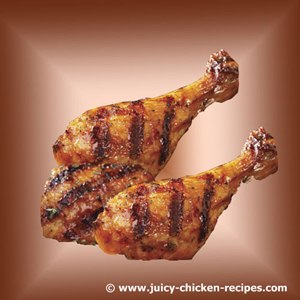 In the Caribbean we call grilled chicken, jerk chicken instead! You may be wondering why? Well it is said that Jerk is comes from the word charqui, a Spanish term for dried meat. Maybe you're thinking that it is "dry" meat but it is not. Jerk/Grill chicken is juicy and mouth-watering.
And don't get worried grilled chicken is indeed jerk chicken! In the Caribbean we just use the word jerk, because it adds uniqueness to our Caribbean style of grilling chicken. Just like in every other country, in the Caribbean the grill is essential when jerking or grilling chicken.
So whatever name you give it, grilled chicken or jerk chicken, we are talking about the same thing. Want to know the special ingredients to jerk or grilled a delicious chicken?
We have it here in the Caribbean, our special jerk sauce! This is made up of several natural spices. If you love spicy food, you will love these grilled chicken recipes. But, if you are not a spice lover, don't worry this meal is just as perfect for you as well. Just use a smaller portion of the spice when grilling your chicken!
The three essential ingredients needed to make our Caribbean Jerk spice are the allspice berry which has an exciting aroma of cloves, cinnamon and nutmeg, Scotch Bonnet peppers, which are among the hottest chillies and Thyme. You can also add your own flavor by using your favorite seasoning.
Remember to include your basic seasonings; onions, brown sugar, soy sauce, garlic, lime juice, bay leaves and ginger.
Guess what if you love alcoholic you can add a touch of rum or beer to these sumptuous recipes! We used rum in the Caribbean to make the best grilled chicken recipes. It makes the meals more delicious!
Wow! These grill chicken recipes are just great! I must admit though, that the seasoning we used in the Caribbean is different to some extent. It is way spicier than the regular grilled chicken.
See the links below for the best grilled chicken recipes you can prepare. As I mentioned before don't be afraid to use the jerk ingredients you may be surprise to know what you have been missing. Share with your friends and family. Grilled chicken served with Jerk sauce is perfect for outdoor cooking!
Grilled Chicken Fajita Recipe
Chicken Rotisserie Recipe
Jerk Chicken Recipe
Chicken Tikka Masala Recipe
Grilled Lemon Chicken
Chicken Kabobs Recipe
Smoked Chicken Recipe
Return from Best Grilled Chicken Recipes to Juicy Chicken Recipes
If you are not satisfied with this recipe, click the link below for a recommended recipe and thanks for visiting www.juicy-chicken-recipes.com.
Other grilled chicken recipes by allrecipes.com