Tastiest Chicken
Rotisserie Recipe
This Chicken Rotisserie Recipe is a popular and favorite dish in the Caribbean. It's a special dish for dinner or an afternoon party. I'm sure your family and guests will dive into these recipes.
Chicken Rotisserie Recipe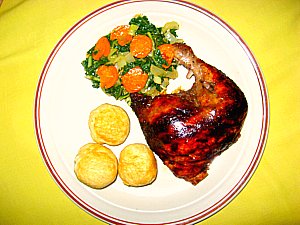 Preparation Time 5 minutes
Cooking Time 1 hour 40 minutes
Serves 4-5
Ingredients
1 whole chicken (about 4 pounds)
4 tablespoons white vinegar
3 tablespoons white wine
3 tablespoons canola oil
2 1/2 tablespoons garlic powder
2 tablespoons paprika
1/4 cup butter, melted
1 1/2 tablespoons cumin
2 teaspoons black pepper
1 teaspoon salt
juice of 1 lemon
1 quart cold water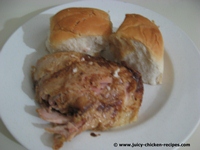 Preparation
1. Add lemon juice to cold water, wash, trim any excess or loose fat from chicken and pat dry it. Tie chicken drumsticks and wings together to avoid them from flapping. Combine vinegar, wine, oil with garlic powder, butter, cumin, paprika, black pepper, and salt. Mix well to form a paste.
2. Place chicken in zip-top bag. Pour spicy mixture over chicken. Coat chicken completely with mixture massaging it into every surface and inside the chicken. Make an effort to get the paste under the skin as much as possible. Refrigerator for at least an hour or overnight. The chicken will have more flavor the longer it marinates in the spice mixture. Do not refrigerator more than 24 hours.
3. Preheat grill and prepare rotisserie. Place chicken on rotisserie and on the grill for approximately 1 1/2 hours at a temperature around 300 degrees F. (150 degrees C.) Test chicken to see if it is tender to the bone by measuring the temperature in the thickest part of the thigh. Chicken is done at 165 degrees F. (75 degrees C.).
If you don't have a grill you can use your oven. Just follow number 4 instructions below.
4. Cook according to the instructions of your oven or you can oven roast them. In this case, sit both chickens in the same baking tray, breast side up. Roast the chickens for about 1¼ hours, basting every 15 minutes. Slit the joint between the thigh and the breast. If the liquid runs out clear, then the chicken is cooked. However, if there is any pinkish liquid, this mean chicken is not cooked properly so cook it a little longer.
Enjoy!
Return from Chicken Rotisserie Recipe to Best Grilled Chicken Recipes