Grilled Chicken Fajita Recipe
Chicken Fajita Recipe great flavor comes from grilled chicken mixed with potatoes, peppers and lime juice rolled with soft tortillas. Chicken Fajita is getting popular every day, because of its basic ingredients and the fact that it is rolled in the most famous, tortillas.
Chicken Fajita
Preparation Time 20 minutes
Cooking Time 1hour
Serves 4-6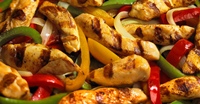 Ingredients
5-6 boneless chicken breasts
2 tablespoons olive oil
3 tablespoons lime juice
2 cloves garlic chopped finely
1 cup packed cilantro leaves
1/2 jalapeno
Salt and freshly ground pepper
Cayenne pepper
1 large onion, chopped
1 green bell pepper, should be seeded and diced
3 potatoes, cut into cubes
8 flour tortillas
Preparation for Chicken Fajita Recipe
1. Chicken breasts should be flattened to 1/2 inch thickness between two sheets of plastic wrap with a rolling pin then place chicken breasts in casserole dish. Combine olive oil, lime juice, garlic, cilantro leaves, jalapeno, salt and ground pepper in a blender. Blend the contents of the blender until they are smooth and pour this mixture on chicken. Leave chicken to marinate for approximately 30 minutes.
2. In a large skillet over slightly medium heat saute onions and peppers until golden.
3. In a glass baking dish stir potatoes with oil and seasonings and bake in the oven at 375 degrees for 30 minutes or until crispy. Constantly stir to prevent sticking. Toast flour tortillas for about 30 seconds for each side on a heated cast iron grill pan and keep warm in an aluminum foil pocket. Then grill the chicken on each side for 4-5 minutes. When serving, slice chicken into even strips. Grilled Fajita Chicken is best served hot, with grated jack cheese, salsa, sour cream and the tortillas.
Enjoy!
Chicken Fajita Recipe to Best Grilled Chicken Recipes
If you are not satisfied with this recipe, click the link below for a recommended recipe and thanks for visiting www.juicy-chicken-recipes.com.
Other chicken fajitas recipes by foodandwine.com