Best Chicken Tikka
Masala Recipe
Chicken Tikka Masala Recipe was originated in India. The chicken was first barbequed upon charcoal fireplace after which was added to marinated gravy to give a delicious taste. It is one of the most popular meals in India and is offered at most restaurants.
Some people have been led to believe that chicken tikka masala first originated in the United Kingdom, however, another theory stated that it was invented within British India. Today, this dish is offered at many dining places and hotels around the world and is still highly appreciated within India and the U.K.
Over the years, chefs have experimented with the original recipe to include ingredients associated to their culture. So you may realise that there is a slight difference in the taste of this dish in different countries. With or without experiments or additions, this dish is loved all across the world.
Serve mouth-watering Chicken Tikka Masala with a salad of baby spinach, lemon wedges and steamed rice.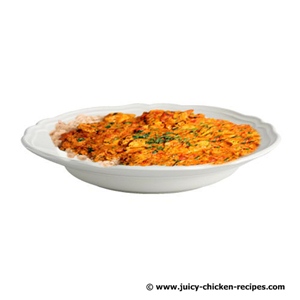 Preparation Time 15 minutes
Cooking Time 45 minutes
Serves 4
Ingredients
1 cup yogurt
1 tablespoon lemon juice
2 teaspoons ground cumin
2 teaspoons ground coriander
2 teaspoons cayenne pepper
1 teaspoon cinnamon
2 teaspoons freshly ground black pepper
1 tablespoon minced fresh ginger
3 teaspoons salt, or to taste
3 boneless skinless chicken breasts, cut into bite-size pieces
1 tablespoon butter
1 clove garlic, minced
1 jalapeno pepper, finely chopped
2 teaspoons ground cumin
2 teaspoons paprika
3 teaspoons salt, or to taste
1 can tomato sauce
1 cup heavy cream
1/4 cup chopped fresh cilantro
Preparation
1. Combine yogurt, lemon juice, 2 teaspoons cumin, cinnamon, coriander, cayenne, black pepper, ginger, and 3 teaspoons salt in a large bowl with the chicken, cover, and refrigerate for 1 hour.
2. Preheat a lightly oiled grill. Cook chicken on heated oiled grill plate. Cook chicken on each side for 5 minutes or until juices run clear.
3. In a skillet melt butter using a medium heat. Then saute the garlic and jalapeno for 1 minute. Add 2 teaspoons cumin, paprika, and 3 teaspoons salt. Mix together the contents of the skillet then stir in the tomato sauce and cream. Simmer for 20 minutes on low flame then add the grilled chicken, and simmer for another 10 minutes. When finish simmering place chicken tikka in serving platter, and garnish with fresh cilantro.
Enjoy!
Return from Chicken Tikka Masala Recipe to Best Grilled Chicken Recipes
If you are not satisfied with this recipe, click the link below for a recommended recipe and thanks for visiting www.juicy-chicken-recipes.com.
Other chicken tikka masala recipe by www.jamieoliver.com