Simple General Tso Chicken Recipe
General Tso Chicken Recipe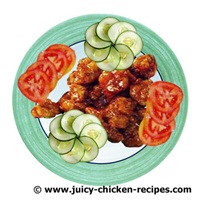 Let me let you in on a little secret! General Tso Chicken is expensive at the restaurants but cheaper to prepare at home with the same ingredients and the same exquisite taste! Oh, so simple and takes a short time to prepare!
Ingredients
2 pounds skinless chicken breasts and thighs, boneless
3 tablespoons light soy sauce
1 egg, beaten
freshly ground black or white pepper, to taste
Cornstarch, as needed
Sauce:
4 tablespoons dark soy sauce
2 tablespoon rice vinegar or white wine
4 teaspoons Chinese rice wine or dry sherry
2 tablespoons granulated sugar
5 tablespoons chicken broth or water
2 tablespoon minced ginger
2 teaspoons minced garlic
3 teaspoons cornstarch for thickening sauce, optional
Additional Ingredients
4 green onions and scallions, thinly sliced
5 to 10 small dried red chilli peppers, for taste desired
3 – 4 cups oil for deep-frying and stir-frying, as needed
Preparation for General Tso Chicken
To Prepare the Chicken: 1. Combine pound chicken, light soya sauce, egg and black or white pepper. Use a fork or your fingers to nicely work the seasoning into the chicken. Add enough cornstarch to nicely coat the chicken. Add oil to help separate chicken pieces. Divide chicken into bite sizes, roll into balls and put aside to marinate while you prepare the sauce.
To Prepare Sauce: 2. Combine the sauce ingredients in a bowl, and constantly stir to dissolve sugar. Set aside in the refrigerator until needed.
3. Heat the oil in a deep frying pan to 350 degrees Fahrenheit (175 degrees Celsius). Deep-fry chicken balls in the hot oil, a few pieces at a time, until crispy (3 to 4 minutes). Remove the chicken balls and drain on paper towels.
Making the Mixture: 4. Drain the frying pan of its contains. Heat 2 tablespoons oil. When the oil is hot, add the sliced green onions, scallions and the dried chili peppers. Sauté these ingredients for approximately 25 seconds.
5. Remove sauce from refrigerator and stir. Add sauce to the frying pan, then add fried chicken until sauce caramelizes into a glaze and chicken is nicely coated (you can add a little cornstarch as needed to get the sauce as thick as you desired).
Serve immediately. Best served with fried rice or pasta.
ENJOY
Feel free to share this General tso chicken recipe.
Return from General Tso Chicken Recipe to Chinese Chicken Recipes