Baked Chicken Quesadilla Recipe
Chicken Quesadilla Recipe
Your family and friends will dive into this scrumptious Chicken Quesadilla snack.
Even though, the origins of quesadilla cannot be traced to a particular year or person, it has been alleged that quesadillas were introduced to Mexico by the Spanish settlers in the 16th century. However, it has been said as well that quesadillas are a mixture of ancient and new world tradition foods.
Quesadillas are one of the Mexicans favorite snacks. They are uncooked tortillas stuffed with various fillings and folded over to make a "turnover" (or prevent the fillings from falling out). They are then toasted or grilled on a hot griddle, baked or fried until golden. The fillings used are mostly chicken, cilantro, bell peppers and Chihuahua cheese.
Try this delicious chicken quesadilla recipe below.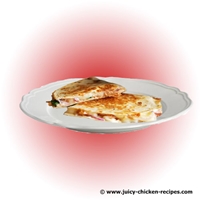 Preparation Time 35 minutes
Cooking Time 25 minutes
Serves 10
Ingredients
2 pounds skinless, boneless chicken breast, diced
1 packet fajita seasoning
1 tablespoon olive oil or vegetable oil
2 green bell peppers, chopped
2 red bell peppers, chopped
1 onion, chopped finely
1/2 cup Chopped fresh cilantro, optional
4 Scallions, thinly sliced
10 flour tortillas
1 package or 3/4 cup shredded Cheddar cheese
1 package or 3/4 cup shredded Monterey Jack cheese
Preparation
Preheat the broiler. Grease a baking sheet.
1. Season the chicken with the fajita seasoning, then spread onto the baking sheet. Place under the broiler and cook until the chicken pieces are cooked or juices run clear.
2. Preheat oven to 350 degrees F (175 degrees C).
3. Heat the oil in a large saucepan over medium heat. Stir in the green bell peppers, red bell peppers, onion, cilantro, scallions and chicken. Cook and stir until the vegetables have softened.
4. Layer half of each tortilla with the chicken and vegetable mixture, then sprinkle with the Cheddar cheese, and Monterey Jack. Fold the tortillas in half and place onto grease baking sheet.
5. Bake quesadilla in the preheated oven until the cheeses are soft and melted.
Enjoy!
Return from Chicken Quesadilla Recipe to Baked Chicken Breast Recipes
If you are not satisfied with this recipe, click the link below for a recommended recipe and thanks for visiting www.juicy-chicken-recipes.com.
Other chicken quesadilla recipe by tasteofhome.com