Succulent Chicken
Cordon Blue Recipe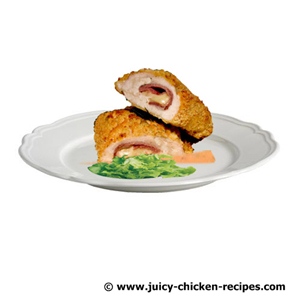 This Gourmet Chicken Cordon Blue Recipe will impress all your guests at your party. It is rich in flavor and the hot steamy Swiss cheese with ham is too difficult to resist. I can assure you, the party will always be at your house. If you want a new promotion at work just invite your boss to the party. Your boss will be overly-impressed with your wonderful cooking skills.
Chicken Cordon Blue
Preparation Time 5 minutes
Cooking Time 40 minutes
Serves 4-5
Ingredients
8 large skinless, boneless chicken breasts
12 slices of Swiss cheese
8 slices of smoked ham
1 egg, beaten
1 cup of seasoned flour
1 tsp paprika
1/2 teaspoon salt
1/4 teaspoon ground black pepper
1 cup of breadcrumbs or cornflake crumbs
Preparation
Preheat oven to 350 degrees F (175 degrees C). Coat baking dish with nonstick cooking spray.
1. Pound chicken breasts to 1/4 inch thickness. Sprinkle each piece of chicken on both sides with salt and pepper. Place 1 cheese slice and 1 ham slice on top of each breast. Fold the fillet in half to enclose the filling or you can also roll up each breast, and secure with a toothpick.
2. Coat each of the fillets in the flour and paprika mixture, shaking off excess. Dip them in the egg and then roll in the dry crumbs, turning to get an even coat. Place chicken in baking dish.
3. Bake for 30 to 35 minutes, or until chicken is no longer pink. Remove from oven, and place 1/2 cheese slice on top of each breast. Return to oven for 3 to 5 minutes, or until cheese has melted. Remove toothpicks, and serve immediately.
How to make Cordon Blue Sauce Recipe
1 can condense Cream of Chicken Soup
Half a cup of sour cream
1 teaspoon lemon juice
Combine all the ingredients in a saucepan and heat through. Serve over the chicken breasts.
Enjoy!
Return from Chicken Cordon Blue Recipe to Baked Chicken Breast Recipes