Sweetest Marinated
Chicken Breast Recipes
Marinated Chicken Breast recipes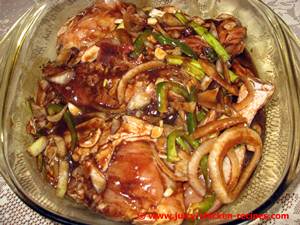 The first marinades were used for preserving meat, since refrigerators were non-existent. Marinating chicken causes the meat to remain fresh without the need for refrigeration. Marinades have grown more popular, especially in the western world, because it was discovered that it not only preserves meats but enhances the flavor.
These recipes below have been my aunt's favorite marinated chicken breast recipes for years. She used it whenever she is baking, barbecuing or grilling chicken breasts. My friends and I just can't have enough of this delicious chicken meals. She has now shared her secret ingredient with me and now it's my turn to share it with you.
See marinated chicken recipes and secret ingredient below.
Preparation Time 6 minutes
NO Cooking Time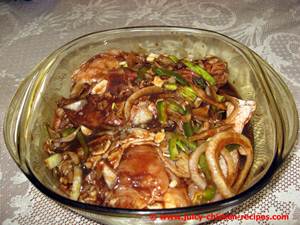 Ingredients
1 teaspoon vegetable oil
3/4 cup soy sauce
3 cloves garlic, minced
2 teaspoons fresh ginger root, grated
1/2 cup onion, grated
1/2 cup Worcestershire sauce
1/2 cup red wine vinegar
2 tablespoons brown sugar
1 teaspoon dried thyme
1/3 cup lemon juice
2 tablespoons dry mustard
1 teaspoon salt
1 tablespoon black pepper
1 1/2 teaspoons finely minced fresh parsley
//pagead2.googlesyndication.com/pagead/show_ads.js">
Preparation
In a medium bowl, mix together oil, soy sauce, garlic, ginger, Worcestershire sauce, wine vinegar, sugar, thyme, and lemon juice. Stir in mustard powder, salt, pepper, and parsley. Use this mixture to marinate 8 chicken breasts before cooking as desired.
Tip: The longer the chicken marinates, the more flavor it will have.
Here is another marinated chicken recipe
Ingredients:
1/2 cup soy sauce
1/2 cup pineapple juice
1/4 cup salad oil
1 tsp. dry mustard
1 tbsp. brown sugar
1 tsp. ginger
1 tsp. garlic salt
1/2 tsp. pepper
Method: Marinate 8 chicken breasts with these ingredients.
Enjoy!
Now the secret ingredient is........ OIL! Surprised? I know you are! Oil is found in the most delicious marinated recipes because it binds the ingredients together and makes it easier for the meat to absorb such ingredients.
Return from Marinated Chicken Breast Recipes to Baked Chicken Breast Recipes