Easy Chicken Rice Casserole Recipe
I love this Chicken Rice Casserole Recipe because it is delicious, easy to prepare and it's a one pot meal!
Preparation Time 15 hour
Cooking Time 30 minutes
Serves 4
Ingredients
2 cups cubed, cooked chicken
1 can unsweetened pineapple chunks, drained
3 tbsp. pineapple juice
1 jar apricot preserves or spreadable fruit
1 can condensed cream of chicken soup, undiluted
2 tbsp. of soy sauce
1 can water chestnuts, drained
1 medium onions chopped
2 green bell peppers
1 cup of partially cooked rice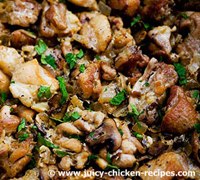 Preparation
1. In a bowl, combine the first nine ingredients. Transfer half cooked rice to a baking dish and pour chicken mixture on top of the rice. Bake, uncovered, at 350 degrees F for 30 minutes or until heated through. Serve with sweet green peas.
This Chicken Rice Casserole Recipe was super easy!
Here is another Chicken Rice Casserole Recipe that you can prepare if you have more time on your hands and a bigger family to feed.
Ingredients
6 chicken breasts skinned, deboned and cut into bite sizes
1 1/2 cups water
1/2 cup dry white wine
1 1/2 teaspoons salt
1/2 teaspoon pepper
1/2 teaspoon curry powder
1 medium onion sliced
2 ribs celery, sliced
10 ounces sliced mushrooms
4 tablespoons butter
1 package Long Grain Rice
1 cup sour cream
1 can cream of chicken soup or cream of mushroom soup
1 can sliced water chestnuts
Preparation
Place chicken bits in a cooking pot with water, wine, salt, pepper, curry powder, onion, and celery. Cover and simmer for 1 hour. Remove from heat and strain, reserving the broth for the cooking of the rice.
Heat butter in another skillet over medium-low heat and sauté mushrooms until lightly browned.
Cook rice mixture with seasonings according to package directions, using the reserved broth as part of the liquid for cooking the rice.
Combine chicken, mushrooms, and rice in a large greased 3-quart casserole. Combine sour cream and soup; blend into chicken and rice mixture. Top with the water chestnuts.
Cover with foil and bake at 350° for 45 minutes. Uncover and bake for 15 minutes longer. Serves 8.
Enjoy the Chicken Casserole of your choice.
Return from Chicken Rice Casserole Recipe to Baked Chicken Breast Recipes