Easy Thai Chicken Recipes
Thai Chicken Recipes
Thai recipes are heavily influenced by Chinese cuisine; for example, the form of stir-frying, spices, herbs, vegetables, sauces and cooking techniques that creates a unique taste. The Indian cuisine has also influenced Thai recipes in the form of curry. Even though Indian food is spicy, not all Thai food is spicy.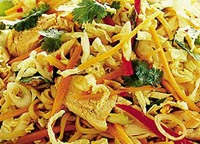 Spiciness is optional in some dishes, such as fried noodle. However, most Thais love spicy dishes, such as thai chicken curry, Thai style soup, and Thai style salad.
Thai food is not only unique but delicious. Most of its dishes are a combination of sweet and salty, and sour and spicy, but each dish has its balance; for example, the fried noodle dish, Phad has a sour and sweet taste. Thai food is healthy and balanced, because it contains fresh vegetables, herbs, rice and fairly small portions of bite-sized meat.
The Thai cuisine uses a variety of ingredients such as fish and or chicken, soy, chili, lime and lemon juices, coconut milk, peanut butter, garlic, lemon grass, basil, cilantro, cayenne, and black peppers, bean sprouts, etc.
The core of a Thai meal is rice. The Thais love rice and their most famous is Jasmine, or fragrant rice. Thais eat rice for every meal: breakfast, lunch, and dinner. Thai meal is served as a one plate meal.
Chicken, pork, and oysters can be used to make a delicious Thai meal, but I have a greater love for Thai chicken recipes.
Today I have made an easy,special and delicious Thai chicken meal that I would love to share with you.
Have it today!
Serve on a bed of lettuce with rice
Preparation Time 10 minutes
Cooking Time 30 minutes
Serve 4-6
Ingredients
2 1/2 lbs chicken pieces
1 cup hot salsa
1/4 cup crunchy peanut butter
2 tablespoon lime juice
1/4 cup soy sauce
1 tablespoon light brown sugar
1 tablespoon curry powder
1 teaspoon fresh minced ginger
2 garlic cloves , minced
Hot cooked rice
1/2 cup chopped peanuts
2 tablespoon chopped fresh cilantro
Preparation
Place chicken in slow-cooker. Mix together salsa, peanut butter, lime juice, soy sauce, sugar, curry powder, ginger and garlic; pour over chicken.
1. Cover and cook on medium heat until chicken is tender or until done.
2. Serve chicken and sauce over rice; sprinkle with peanuts and cilantro.
Just ENJOY!
Return from Thai Chicken Recipes to Easy Chicken Breast Recipes
Return from Thai Chicken Recipes to Juicy Chicken Recipes
If you are not satisfied with this recipe, click the link below for a recommended recipe and thanks for visiting www.juicy-chicken-recipes.com.
Other thia chicken recipes by www.food.com