Crispy Oven Fried
Chicken Recipe
Have you ever wonder what makes oven fried chicken so irresistible? Is it the crisp on the outside or is it the juicy, steamy, flesh on the inside? Whatever it is that makes you indulge in it, I'm sure it is worth your while; for me it is the CRRRUUNNCH!
I have discovered that the same thing a deep fat fryer can do, your oven can do just as well or sometimes even better. Oven fried chicken is a healthier alternative to fried chicken always.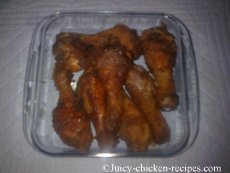 It is remarkable to see how the history of fried chicken has developed fried chicken over the years. From the kind of fried chicken in ancient times to present day, this tasty dish has change in terms of preparation, but has lost none of its fascination and incredible succulent flavor. Though, preparation style varies across the world, they all have factors in common. Soft, crispy, crunchy and juicy chicken is always preferred.
Today, we have access to various cooking methods that was unknown before. We once deep fried our chicken to achieve the desired results of juicy, crispy and crunchy, but oven frying has taught us that we can produce the same results by simply using an oven.
Why not try this crispy fried chicken dish today!
Serves 3-4
Ingredients
3 pounds chicken parts
1 cup dried bread crumbs (Grate the bread to get crumbs) (cornflakes or flour can be used as substitute)
1 teaspoon garlic powder or crushed garlic
1 teaspoon salt
¼ teaspoon freshly ground pepper
1 teaspoon dried thyme
1/2 teaspoon paprika
1/3 cup butter or margarine (Vegetable oil can be used as a substitute)
Vinegar
Preparation
1. Preheat oven to 425°F.
2. Wash chicken with vinegar, pat dry with paper towels sprinkle chicken parts all over with salt and pepper. Allow chicken to marinate 15-20 minutes.
3. In a bowl or a zip loc plastic bag, mix together the bread crumbs, garlic powder and paprika.
4. Place chicken pieces in a lightly greased 9x13 inch baking or casserole dish (using butter, margarine or oil) and bake for 45 minutes or until chicken is tender and juices run clear.
5. Now your fried chicken,fresh from the oven will be crispy, crunchy and ready to impress!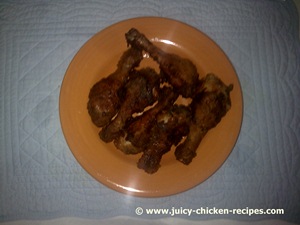 Enjoy!
Why not share your special oven fried chicken recipe with us. I bet its delicious! Just click your recipes and follow the simple instructions.
Return from Oven Fried Chicken Recipe to Deep Fried Chicken Recipes