KFC Chicken Recipe
Secret Revealed
KFC chicken recipe: I had a cousin who worked at KFC for several years. She helped to prepare the meals and so has insight knowledge on the secret ingredients that are used produce such tasty, delicious and tongue-teasing fried chicken. She shared this secret with me and today, I will be sharing this secret and juicy recipe with you; my cousin's version of KFC's Chicken Recipe.
I know you will love it!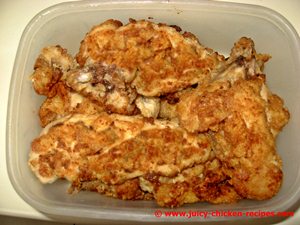 Total Time: 2 hrs 45 minutes
Prep Time: 2 hours
Cook Time: 45 mins
Ingredients for KFC Chicken Recipe:
Serves: 4-6
The BRINE
8 cups water
2 tablespoons accent seasoning
2 tablespoons unseasoned meat tenderizer
CHICKEN
1 fresh young chicken, preferable roasting chicken cut into 8 pieces
SEASONED FLOUR
1 1/2 cups pre-sifted all-purpose flour
1/3 cup seasoning KFC Original Recipe 11 Secret Herbs & Spices :
1 teaspoon ground oregano
1 teaspoon chilli powder
1 teaspoon ground sage
1 teaspoon dried basil
1 teaspoon dried marjoram
1 teaspoon pepper
2 teaspoons salt
2 tablespoons paprika
1 teaspoon onion salt
1 teaspoon garlic powder
2 tablespoons accent (an MSG-based seasoning)
EGG WASH
4 beaten eggs
2 cups skim milk
DEEP-FRYING FAT
Pure vegetable shortening or peanut oil
Instructions for KFC Chicken Recipe::
NOTE: Do not brine chicken if you're using brined frozen chicken (read the ingredients on label to see if chicken has already been brined.
1. Blend the BRINE ingredients together in a bowl until the ingredients are dissolved. Add the chicken pieces and allow chicken to marinate in mixture for 1 1/2 hours at room temperature, or if left overnight refrigerate it, and turn the chicken occasionally. Afterwards remove chicken from brine mixture, rinse and use paper towel to pat chicken dry.
2. Place the seasoned flour ingredients into a sealable container, such as a Ziploc bag: 1 1/2 cups pre-sifted all-purpose flour and a batch of KFC Original Recipe 11 Secret Herbs & Spices; Shake the container to mix the flour and spices well.
3. BEAT 4 eggs in a large bowl for the egg mixture. Add 2 cups skim milk and whisk until eggs and skim milk are blended.
4. Put chicken into the egg mixture using tongs, wet chicken thoroughly, lift chicken with the tongs and allow any excess liquid to drain. Now place the wet chicken into the seasoned flour mixture container and resealed container firmly. Shake the container thoroughly to coat chicken well. Use tongs to lift chicken and shake away excess seasoned flour.
5. Place chicken pieces on a wire rack over a lined baking sheet and allow chicken to rest and absorb the breading for 10 minutes before frying.
6. PREHEAT manufacturer's recommended amount of pure vegetable shortening or peanut oil in deep-fryer to 300°F OR preheat enough oil to immerse chicken completely in a deep heavy stove-top pot to 325°F using a deep-fryer thermometer to gauge.
7. ADD breaded chicken to the elevated fry basket in deep-fryer without crowding. Lower the basket slowly into the hot fat or carefully lower breaded chicken pieces using tongs into stove-top pot, and turn once halfway throughout the frying duration. Fry chicken between 15-20 minutes until golden brown and fully cooked; this depends on the chicken pieces and sizes (juices should run clear when chicken is done). Place chicken on paper towel for two minutes to drain off excess oil and then put into a sealed container or Ziploc bag. Repeat the same cooking procedures until all chicken is fried.
8. Reheat chicken in the sealed container or Ziploc bag using the microwave, if you prefer to have it warm before serving.
Enjoy!
Return from KFC Chicken Recipe to Deep Fried Chicken Recipes