Tender Easy Chicken
Breast Recipe
Easy Chicken Breast Recipe is enjoyable!
When I was growing up, we'd never use peanut in cooking. We'd just eat them raw or use them to make peanut punch and porridge.
This recipe was picked up from a recent experience cause I never knew that peanut could make oil.
This recipe is delicious, and highly flavored. You could try the same flavorings with quail.
Eat this with steam rice, green salad and red wine.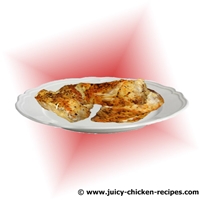 NOTE:This recipe includes pecan and peanut oil, so if you are allergic to these ingredients exclude them.
Chicken Breast Recipe
Preparation time 10 minutes
Cooking time 25 minutes
Serves 3-4
Ingredients:
8 boneless chicken breasts
Salt and freshly ground black pepper
½ cup ground pecans
½ cup flour
1 egg
1 cup milk
Peanut oil
1 ¼ cup chicken stock
½ cup heavy cream
Preparation:
1. Rinse chicken breasts with vinegar or lime juice to get rid of any impurities. Pat it dry with kitchen towel or paper towels. Then season each equally with salt and black pepper.
2. Combine pecans and flour in a mixing bowl and mix well. Beat egg and milk into another large bowl. Dip each chicken breast into egg mixture and then roll to coat well in pecan flour mixture.
3. Pour peanut oil into a frying pan. Make sure that the oil is sufficient to cover the breast when frying. Fry chicken breasts until golden and tender. Then remove and drain them on absorbent paper.
4. Pour chicken stock into a medium skillet with medium high heat. Add cream and cook, stirring constantly for about 5 minutes. Season to taste with salt and pepper.
Serve chicken with gravy.
Hope you and your family has a big appetite!
ENJOY!

Return from Easy Chicken Breast Recipe to Easy Chicken Breast Recipes