Curried Chicken Recipes
We love curried chicken recipes in the Caribbean.
Curried Chicken is a classic and authentic dish glowing with the color of curry, chunks of chicken, potatoes and carrots.
Depending on your tolerance for heat you can throw all the chilli seeds or scotch bonnet seeds, or keep half, or be brave, and put them all in the dish. This could get real hot, or may I say real spicy! For my dish, I'd choose the seeds anytime.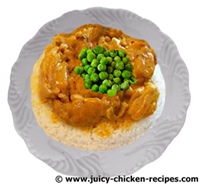 Preparation time 10 minutes
Cooking time 40 minutes
Serves 5-6
Ingredients for Curried Chicken Recipes
12 chicken pieces (mixture of drumsticks, breast and thighs)
2 medium onions roughly chopped
2-3 large waxy potatoes peeled and cut into 4cm (1½ inch) chunks
2 medium carrots scraped and cut into chunks or circular form or strips.
4 tbsp cooking oil or oil of your choice
Salt
3 small bay leaves(optional)
3 garlic cloves, roughly chopped
½ -1 hot red chilli (ideally scotch bonnet pepper) with seed or deseeded
1 tbsp size of ginger peeled and chopped
4 tsp curry powder (if the powder is of high quality)
2 tsp vinegar or ½ tsp lime juice
1 tsp sugar
Half medium sweet pepper cut into strips
¼ pint chicken stock or water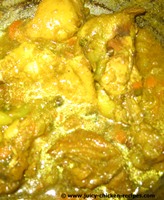 PREPARATION for Curried Chicken Recipes
1. Wash chicken with vinegar or lime to cure the meat.
2. Season chicken with sugar, salt, chilli pepper or scotch bonnet, 3 tsp curry powder, ginger, garlic, carrots. Sprinkle 1 tsp of cooking oil on seasoned chicken this will help it marinate faster in approximately 15 minutes.
3. Heat remaining oil in a large frame-proof casserole or heavy based saucepan. When the oil is hot put in the remaining curry powder. Wait until 1 minute or when curry is burnt to pour in the seasoned chicken, and then brown the chicken on both sides.
4. Add onion, carrot, potato, sweet pepper and chicken stock or water to the curry chicken. Cover sauce pan and turn flame to medium heat and cook for 30 minutes.
5. Add bay leaves and turn flame to low heat. Simmer for 5 minutes.
6. At this time curried chicken will be

juicy,tender and ready to eat.

Serve with boiled white rice and light vegetable.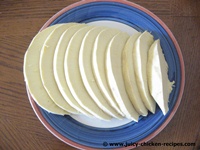 Enjoy!
Return from Curried Chicken Recipes to Easy Chicken Breast Recipes