Chicken tenders recipe is one of the most delicious snack you'll ever eat!
This is a juicy and mouth-watering Chicken Tenders Recipe with a spicy crumb coating that you can make in the comforts of your home.
Chicken tenders are one of the simplest and delicious fast foods ever created. Both children and adults love Chicken tenders. What's not to love? They are crispy, meaty, spicy and are just begging to be dipped into a delicious sauce, yummy! This favorite dish is a quick and easy meal to prepare. It can be served at parties and is also a great alternative to eating popcorns during a movie. Chicken tenders can be served with a variety of dipping sauces, and easily appeal to almost anyone's palate.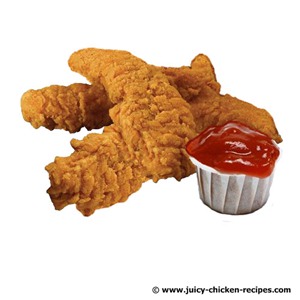 Preparation Time 20 minutes
Cooking Time 25 minutes
Serves 4-6
Ingredients
2 pounds chicken tenders
1 large egg, beaten with 4 tablespoons milk (buttermilk can also be used)
Salt and pepper to taste
3 teaspoons creole seasoning, divided
1 cup dried breadcrumbs or all-purpose flour, seasoned to taste with thyme, garlic powder, and a little grated Parmesan cheese
Approximately 1/4 cup canola or other vegetable oil
Preparation
1. Use a food storage bag, to combine egg mixture, salt and pepper, and 2 teaspoons Creole seasoning. Add chicken, seal and refrigerate for about an hour.
2. Next, combine seasoned breadcrumbs or flour and the remaining 1 teaspoon Creole seasoning in another food storage bag or container. Add the seasoned chicken and toss to get each side evenly coated.
3. Heat the oil, enough to generously cover the bottom of a large skillet, over medium-high heat. Add few pieces of the chicken so as to prevent crowding the pan, and brown chicken on both sides, about 3 minutes per side.
4. Place on a cooling rack or a paper towel to drain. Serve immediately with sweet and sour sauce, or with a mixture of mayonnaise, horseradish, sour cream, Worcestershire sauce and mustard.
5. Chicken Tender recipes are great whether eaten at room temperature or cold and best served as snack and excellent for parties.
Enjoy this snack!
Return from Chicken Tenders Recipe to Deep Fried Chicken Recipes
If you are not satisfied with this recipe, click the link below for a recommended recipe and thanks for visiting www.juicy-chicken-recipes.com.
Other chicken tenders from eatingwell.com