Favourite Chicken Stir Fry Recipes
Are you craving for a menu of Chicken Stir Fry Recipes, but cannot afford to order takeout?
Well crave no more, I can teach you how to make the juiciest, scrumptious, mouth-watering Chicken Stir Fry.
Listen, you can add all your favorite vegetables and control your calories intake, at the same time!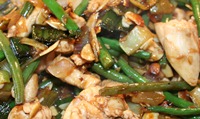 Preparation Time 20 minutes
Cooking Time 20 minutes
Serves 2
Ingredients
3 skinless, boneless chicken breasts
1/2 head cauliflower, cut into florets
2 stalks broccoli, florets and sliced stem
3 baby carrots sliced in strips
1 cup snow peas
1 tsp ginger minced
1 small sweet pepper, sliced
1 sweet onion, sliced
1 clove garlic, minced
1/4 lb. mushrooms, sliced
2 tbsp. peanut oil
1 tsp. sesame oil (optional but together with the peanut oil gives the chicken a sweet flavor)
1 tsp. cornstarch, dissolved in 1 tsp. water
3/4 cup hot water
1 tsp. unseasoned chicken bouillon
1 tsp. lemon juice
1 tsp Chilli paste
Oyster and or soya sauce (I use both)
Preparation
1. Prepare vegetables you like and drain. Slice chicken breasts thinly, while chicken is a bit frozen.
2. Saute hard vegetables using peanut oil and sesame oil in a frying pan over medium heat until tender. Remove and cook soft vegetables. Set aside and sauté chicken breast strips until they are tender and no longer pink.
3. Then add the sauces and the chilli paste and stew with vegetables while preparing broth. Combine chicken bouillon and hot water. Add cornstarch mixture and lemon juice. Pour over vegetables and chicken. Cook until thick. Serve with steaming fry rice.
Enjoy!
Return from Chicken Stir Fry Recipes to Deep Fried Chicken Recipes