Chicken Paprikash Recipe is one of Hungary's most famous dishes!
Try this juicy, tasty Hungarian chicken paprikash recipe today!
A little History about Paprika
Paprika is made from dried and ground chile peppers, which originated in southern Mexico.
In the 16th century, these peppers reached the Balkans where they were called "peperke or paparka." The peppers were then migrated to Hungary, where they were later renamed paprika. Hungary is the most famous producers of sweet paprika.
Paprika is used as a coloring agent in foods and cosmetics. It does not only lend its color, but its fabulous flavor to many different foods including meats, vegetables, and sauces.
Cooked paprika is common in Hungarian cuisine, hence the dish chicken paprikash, which is one of the most famous Hungarian stews.
This dish is traditionally served with dumpling-like boiled egg noodles or rice.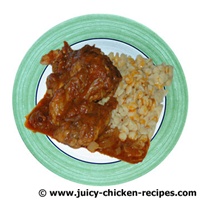 Chicken Paprikash Recipe
Preparation Time 5 minutes
Cooking Time 1 hour 5 minutes
Serves 4-6
Ingredients
2 to 3 pounds whole chicken, cut into pieces
2 tablespoons paprika
salt and pepper to taste
2 tablespoons olive oil or vegetable oil
½ teaspoon cayenne pepper
1 cup chopped onion
1 tablespoon paprika
1/4 cup white wine
1 ½ cup chicken broth
¾ cup sour cream
Preparation
1. Season chicken with salt, pepper and 1 tablespoon paprika.
2. Add oil to a dutch pan or a large skillet, heat oil and brown chicken on all sides. Remove chicken and set aside.
3. Add onion, cayenne pepper and stir in remaining paprika to skillet. Saute until onion is tender, but not brown approximately 2 minutes. Stir in paprika. Return chicken to pot or skillet, turning to coat with paprika/onion mixture. Add wine and broth to cover. Bring to a boil; reduce heat, cover and simmer for 40 minutes or until chicken is fully cooked and tender. Remove chicken and keep warm.
4. Boil 1/2 cup liquid skillet drippings for about 3 minutes. Stir in sour cream. Stir constantly until heat through. Sauce should be a very pale orange color (almost white) Serve chicken atop pasta, or cooked cavatelli whichever is desired and pour sauce over all.
Enjoy!
Why not share your favorite chicken paprikash recipe with us today? Just click your recipes and follow the simple instructions.
Return from Chicken Paprikash Recipe to Deep Fried Chicken Recipes