Best Mexican Chicken Burrito Recipe
This juicy Mexican chicken burrito recipe has tasty ingredients in store ready to wet your appetite! Ohh! with the warm, dripping, juicy cheese being just the tip of the iceberg!
Preparation Time: 20 minutes
Cooking time: 35 minutes with already prepared chicken
Cooking Time: 1 hour and 10 minutes if you have uncooked chicken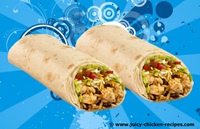 Ingredients for Chicken Burrito Recipe
2 pounds chicken thighs and breast or 2 pounds rotisserie chicken, boned and skinned
4 large tortillas
½ cup or 1 can Refried Beans
½ cup chopped onions
½ cup bell peppers
Salt and fresh ground pepper to taste
1 medium tomato, diced
1/4 cup sour cream
1 tbsp chilli powder
1/2 lb. (2 cups) Monterey Jack cheese, shredded
1 1/2 cup sliced iceberg lettuce
1 medium tomato, diced
Preparation for Chicken Burrito Recipe
Prepare chicken:
Skip to Step 2
if you are using rotisserie or cooked chicken.
1. Heat a dutch pot over medium heat. Add uncooked chicken, onions, bell peppers, salt and pepper. Mix these ingredients together, cover and cooked for 35 minutes, stirring occasionally in order to get the chicken to braise. You can tip a little water into the pot to prevent the flesh from sticking. Remove chicken and allow it to cool.
2. Place chicken on a clean cutting board and shred the chicken. You can shred it using your hands or with the help of a knife.
3. Preheat oven to 425 degrees. In a bowl, stir shredded chicken, 1 tomato, sour cream, chilli powder and salt to taste until well mixed.
Prepare Tortillas:
Fill the tortilla
4. Heat the refried beans in a pan over medium heat until beans are warmed. Take tortilla and place it on a grill or a heated frying pan. Heat tortilla on both sides until they are warm. Repeat this process for the remaining three tortillas.
5. On a flat surface, place heated tortillas and spread ¼ of refried beans evenly over each tortilla. Next, spoon chicken mixture across the center of each tortilla and sprinkle only 1 cup of the cheese evenly over chicken on each tortilla.
6. Roll up and fold tortillas into burrito shapes. To do so, fold in each side of the tortilla, and then while applying weight around the middle, fold the piece closest to you over the center of the tortilla. Continue rolling the tortilla over until the center is resting on the other end of the tortilla.
7. Place burritos, seam side down, in a flat baking dish. Baking dish should be able to hold all 4 burritos. Cover dish with foil, bake 30 minutes or until burritos are heated through. Remove and sprinkle burritos with reserved cheese. Bake 5 minutes longer or until cheese melts and is dripping.
To Serve: Sprinkle lettuce and tomato over burritos.
Enjoy
Return from Chicken Burrito Recipe to Easy Chicken Breast Recipes
Return from Chicken Burrito Recipe to Juicy Chicken Recipes
If you are not satisfied with this recipe, click the link below for a recommended recipe and thanks for visiting www.juicy-chicken-recipes.com.
Other Chicken Burrito Recipe from Taste.com