Blackened Chicken Recipe
This spicy Blackened Chicken Recipe has a delicious dry rub that can be used for any meat or fish.
Serves 4
Preparation Time 10 mins
Cooking Time 10 mins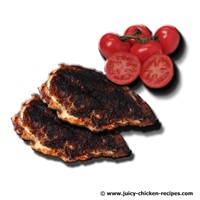 Ingredients
4 skinless boneless chicken breasts
1/2 stick butter melted
4 tablespoons vegetable oil
1 teaspoon cider vinegar
Blackened Seasoning
1 tablespoon salt
1 tablespoon paprika
2 teaspoons onion powder
1 teaspoon garlic powder
1 teaspoon dried thyme
2 tablespoons sugar
1 teaspoon white pepper
2 teaspoon black pepper
1 teaspoon cayenne pepper
1 teaspoon ground oregano
Mix all these seasonings together in a container, preferably a Ziploc bag. When you store the seasoning in this bag it's easier to lock in the scent and coat chicken.
Marinade
2 tablespoons lemon juice
2 tablespoons of soy sauce
1 tablespoon of Worchester sauce
1 cup water
1 teaspoon cider vinegar
Preparation
1. Pound your chicken breasts to an even thickness of approximately 1/2 inch. This will enable your chicken to cook faster.
2. Rinse your chicken in cold water mixed with 1 teaspoon vinegar and pat dry chicken breasts with paper towels and set aside.
3. Place chicken in a small container and mix well with marinade ingredients. Seal the container and refrigerate. For juicy results its best to marinate your chicken or any other meat overnight.
4. Ready to cook some blackened chicken! Remove your chicken from the marinade, pat dry with paper towels, and set aside. Moisturize chicken breast with melted butter and then generously apply blackened seasoning mixture on both sides, set aside.
5. Add oil to a iron skillet, or a deep frying pan and heat on high flame until pan or skillet is sufficiently hot. Always use a deep pan when frying to get juicy results, because I know you don't like your chicken dry.
6. Add chicken breast to the pan or skillet, cook for approximately 2 minutes for each side. The chicken breasts are done when the center are no longer pink but white.
ENJOY!
Return from Blackened Chicken Recipe to Easy Chicken Breast Recipes
Return from Blackened Chicken Recipe to Juicy Chicken Recipes