Ever had Apricot Chicken Recipe?
This Apricot Chicken Recipe is not only simple to make but also delicious and cheap. Did I mentioned HEALTHY?
Serves 4-6
Preparation Time 5 minutes
Cooking Time 1 1/2 hour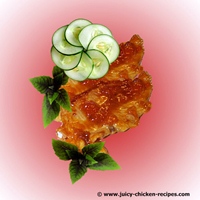 Ingredients
1.5kg chicken pieces
470g can apricot nectar
1 packet french onion soup
1/2 tsp salt
pinch pepper
1/4 or 1/2 pound pumpkin, peeled and cut in small cubes
420g tin halved apricots
Preparation
1. Heat oil in frying pan and wait until oil is hot before putting in chicken. Partly cook chicken.
2. Mix apricot nectar, onion soup, salt and pepper. When chicken is partly cook, pour mixture over chicken and add pumpkin. Bring to a boil.
3. Remove the contents from the cooking pan and place in a casserole dish or baking dish, sprinkle apricots over chicken. Place casserole dish in oven and bake for approximately 1 hour at 200C until chicken is cooked or chicken juices run clear.
Best served with Rice
Want to try another Super delicious Apricot Chicken Recipe?
Ingredients
3 whole chicken breasts, boned, skinless
1 cup dry stuffing mix
½ cup chopped onion
2 Tbsp unsalted butter, melted
1 tsp ground ginger
1 tsp garlic powder or chopped garlic
4 fresh apricots (½ lb), chopped
1 cup apricot jam
1 Tbsp cider vinegar
Preparation for Apricot Chicken Recipe
Place chicken on a clean surface and pound it with a mallet to flatten slightly. Combine stuffing mix, onion, butter, and ¼ tsp ginger and garlic.
Put stuffing mixture in the center of each breast. Place apricot chopped on top of stuffing. Wrap chicken around filling; tie each chicken roll with a string every 2 inches. Barbecue chicken roll on rack about 6 inches above medium-hot coals 15 minutes, turning once or twice until chicken color changes from pink to white. Breast is very easy to cook, so this will only take a few minutes.
Mix apricot jam, vinegar, and remaining ginger and garlic.
Brush jam mixture over chicken rolls; continue cooking until done, about 5 to 10 minutes.
Have your Apricot Chicken Recipe with Bean Salad
Serves 4.
Benefits of Apricot to the Human Body
Apricots are very nutritious. It contains vitamin B17, this is the nutrient Amygdalin. It is discovered that people who eat a diet consisting of this nutrient have been found to be largely free from cancer. Apricots also have an alkaline reaction in the system. This aids the digestion process.
The apricot is an excellent food remedy for anemia because of its high iron content. The fruit contains copper which makes iron available to the body. Moderate use of apricots could also increase the production of hemoglobin in our body.
Fresh juice of apricots, mixed with glucose or honey quenches the thirst and eliminates the waste products from the body. It tones up the eyes, stomach, liver, heart and nerves by supplying vitamins and minerals.
The list goes on. There are many more health benefits associated with Apricots. Since Apricots are so healthy why not combine it with your meal today? Vitamins, Iron with your Protein is super nutritious!
ENJOY!
Return from Apricot Chicken Recipe to Easy Chicken Breast Recipes

Return from Apricot Chicken Recipe to Juicy Chicken Recipes
If you are not satisfied with this recipe, click the link below for a recommended recipe and thanks for visiting www.juicychickenrecipes.com.
Another Apricot Recipe from www.taste.com